The rule says, only one entry allowed per person and I have already made my official entry post in one of my blogs. I am not allowed to have another entry.

But since Jaypee is a blogging buddy, there's nothing in the rule that says "buddies shouldn't not help spread the word" for their great contest.

So here I am, spreading the word for the $1,500 Thanksgiving Giveaway at Jaypee Online.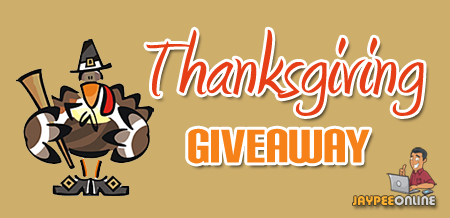 The contest runs until November 30, 2009, and there's plenty of time to join the contest and have a chance to win great prizes.

I won't be writing the prizes nor the rules here, cause I want to go directly to the official contest post, or you can also check my entry for the details.

Just spreading the buzz!

It's a great contest, join now!